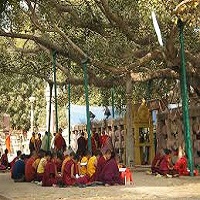 2Days/1Night
VARANASI – GAYA TOUR

HIGHLIGHTS
Visting a city where lord Buddha received knowledge

Visiting Mahabodhi temple 
Tree where lord Buddha did meditation

a holy river where Hindus perform shardha for their ancestors

Duration : 2 days / 1 night

DAY 01:
Early in the Morning  drive to gaya  and Arrive at Hotel. After that  you will visit the  where one can do darshan of Vishnu padam and also you may do puja for fore fathers (Shradh puja) later visit world heritage place bodhgaya where lord budha have done meditation for 6 years and anandvan forest. In bodhgaya visit Mahabodhi temple, China temple, Thai Temple, japanese Temple . After that in the evening  arrival check into the hotel. Overnight in the hotel. 
 DAY 02:
After Breakfast you will be go for Sakya Muni Buddha Gaya Temple,  Mangla Gauri ,Shringa-Sthan, Ram-Shila and Brahmayoni . Later return to Varanasi.
More about Bodhgaya
Gaya is a city of ancient historical and mythological significance. It is one of the major tourist attractions of Bihar. Gaya is 100 kilometers south of Patna, the capital city of Bihar and 230 km from Bhagalpur. Situated on the banks of the Phalgu River (or Niranjana, as mentioned in Ramayana), it is a place sanctified by the Jain, Hindu and Buddhist religions. It is surrounded by small rocky hills (Mangla-Gauri, Shringa-Sthan, Ram-Shila and Brahmayoni) by three sides and the river flowing on the fourth (eastern) side. The city has a mix of natural surroundings, age old buildings and narrow bylanes. Gaya derives its name from the mythological demon Gayasur (which literally means Gaya the demon). According to Vayu Purana, Gaya was the name of a demon (Asura) whose body was pious after he performed rigid penance and secured blessings from Vishnu. It was said that the body of Gayasura was transformed into the series of rocky hills that make up the landscape of Gaya. Gayasura was so holy that he had the power to absolve the sins of those who touched him or looked at him; after his death many people have flocked to Gaya to perform Shraddha sacrifices on his body to absolve the sins of their ancestors. Gods and goddesses had promised to live on Gayasur's body after he died, and the hilltop protuberances of Gaya are surmounted by temples to various gods and goddesses. These hilltop temples at Rama Shila, Mangla Gauri, Shringa Sthan and Brahmayoni are part of pilgrimage circuit, and grand staircases have been built up to most of them. Gaya is a holy place for buddhism, jainsim and hindusim. Ghats and temples are lined on the banks of the sacred Phalgu River. Trees such as pipal trees and Akshayavat, the undying banyan, are especially sacred. The Mangla Gauri shrine is marked by two rounded stones that symbolize the breasts of the mythological Sati, the wife of Lord Shiva.
Check out our other Bodhgaya tours from Varanasi