Ayodhya-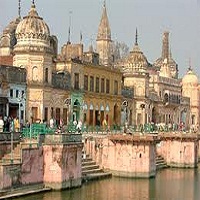 Ayodhya also known as Saket is an ancient city of India, believed to be the birthplace of Rama and setting of the epic Ramayana. It is adjacent to Faizabad city at south end in the Indian state of Uttar Pradesh. Ayodhya used to be the capital of the ancient Kosala Kingdom. Ayodhya is on the right bank of the river Sarayu, 6 km from Faizabad. This town is closely associated with Rama, seventh incarnation of Vishnu. According to the Ramayana, the city is 9,000 years old and was founded by Manu, the first man in the Vedas, and law-giver of the Hindus. Other sources hold that it was founded by its namesake, King Ayudh. For centuries, it was the capital for the Surya dynasty, of which Lord Rama was the most celebrated king. At the time it was known as Kaushaldesa. Skanda and other puranas list Ayodhya as one of the seven most sacred cities of India, as it has been the backdrop for much of Hindu scripture. Today it is predominantly a religious destination with its historical significance and sacred temples. The Atharvaveda described Ayodhya as "a city built by God and being prosperous as paradise itself." Its first ruling king was Ikshvaku, of the solar clan Suryavansa and eldest son of Vaivasvata Manu. The sixth king of this line, Prithu, is linguistically the etymology of earth, or "Prithivi". Mandhatri was a later king of the region, and the 31st king of his descent was Harischandra, known for his truthfulness, or Sathya-sandhata. His lineeage was Surya Vamsa and, in turn known for their honesty as rulers. Raja Sagar of the same clan performed the Asvamedha Yajna, and legend holds that his great-grandson Bhagiratha brought the river Ganges to the earth through penance. Later came the great King Raghu, after whom the dynasty was called Raghuvamsa. His grandson was Raja Dasaratha, of the Kausala dynasty, and father of Rama.
Package-
2Days/
1
Night
DAY 01:
Early in the Morning  drive to Ayodhya  and Arrive at Hotel. Afte that  you will visit the Angad Tila , Shri Rama Janaki Birla Temple , Tulsi Smarak Bhawan , Ram ki Paidi , Kaleramji ka Mandir , Datuvan Kund , Janki Mahal , Gurudwara Brahma Kund , Rishabhadeo Jain Temple , Brahma Kund , Amawan Temple , Tulsi Chaura , Laxman Quila , Ram Katha Museum Valmiki Ramayan Bhawan , Ram Janmabhoomi . After that in the evening  arrival check into the hotel. Overnight in the hotel. 
 DAY 02:
After Breakfast you will be go for Archaeology of Ayodhya , Gulab Bari, Bahu Begum ka Maqbara , Hanumangarhi . Later return to Varanasi.