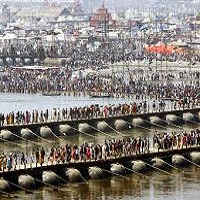 Allahabad also known as Prayag , is a metropolitan city in the north Indian state of Uttar Pradesh. It is the administrative headquarters of theAllahabad District.  The city's original name – Prayaga, or "place of offerings" – comes from its position at the sacred union of the rivers Ganges, Yamuna and Saraswati. It is the second-oldest city in India and plays a central role in the Hindu scriptures. Allahabad was originally founded as Kaushambi (now a separate district) by the Kuru rulers of Hastinapur, who developed it as their capital. Since then, Allahabad has often been the political/cultural/administrative head of the entire Doab area and beyond. Later, the Mughal emperor Akbar renamed Prayag as Allahabad and made it a prominent administrative centre. In 1833 it became the seat of Ceded and Conquered Provinces before the capital was shifted to Agra in 1835.It again became the capital of North-Western Provinces in 1858 when it was also made the capital of India for a day.Eventually, it served as the capital of United Provinces from 1902 to 1920. Allahabad has hosted cultural and sporting events, including Kumbh Mela and Indira Marathon.
for more other Allahabad tours Package click here 
VARANASI – ALLAHABAD (122 Kms/4 hours) TOUR PACKAGE
Day 01:
Early in the  Morning drive to Allahabad to see the Sangam (Meeting point) of the three rivers – Ganga, Yamuna & Saraswati and enjoy boat ride.s Here the Maha Kumbh Mela is held every 12 years which is a major Hindu festival.  At the point at which the brown Ganges meets the Greenish Yamuna, pandas perch on small platforms to perform puja and assist the devout in their ritual ablutions in the shallow waters. Beaches and ghats are littered with the shorn hair of pilgrims who come to offer pind for their deceased parents. Back to Hotel.
After Breakfast you will be Visit to  Anand Bhavan ,  Alfred Park, Victoria Memorial, Thornhill Mayne Memorial, Minto Park,Allahabad Fort, Ashoka Pillar and Khusro Bagh , Allahabad University and  Allahabad Museum.