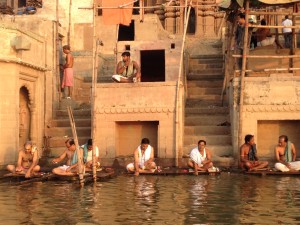 HIGHLIGHTS
Experience spiritualism of Varanasi
Morning ceremony at ghat
Sunrise on the Ganges

Understanding death rituals at biggest cremation ground
Heritage walk in golden temple area and near by temples
Duration : 2 to 3 hours

Description :-

Boat ride tour in Varanasi is one of the best experience and it's best aliment of Varanasi tours packages. Boating on the Ganges in Varanasi gives an opportunity to see and witness life and culture at Ghat in Varanasi such as ritual bathing in Varanasi, praying to mother holly Ganges in Varanasi, chanting mantra , sounding the bell in temples of Varanasi, women performing pooja offering at Ghat, lighting lamp for blessing from the deity with holly Ganges and Sun in an unique spiritual experience in Varanasi. all these morning activities of ghat in Varanasi is worth seeing.!
Subah- e -Banaras means morning life at ghat in Varanasi and this is very much famous because in Varanasi life start right from the Ghat. Our Boat Journey on the Ganges will take you to see life and activities of the Ghat.
Starting point for this tour is from Assi ghat to all the way to Panch Ganga ghat where the spiritual journey of Benares starts. you will get off from the boat and you  will see the busiest cremation ground of Varanasi and later on we will walk to Kashivishwanth temple ( golden temple ) area where you can see divine temple of Hindus and muslim is next to each other.
Recommended time for this tour is 5 am in summer and 6 am in winter.
for more Varanasi tours Package click here